Whenever you need to replace broken or improperly functioning car parts, you could buy brand new parts, or you could purchase recycled car parts from a reputable used car parts dealer. Here are some of the best reasons to contact Nixon Car Spares:
SAVE MONEY

The most obvious benefit to purchasing used car parts is the lower price – you could save up to 90% versus some new car parts. Whether you need a car part permanently or temporarily for car repairs, buying used car parts will be significantly cheaper than getting new parts. In addition, if you get them from a reputable provider, the parts will be professionally cared for and cleaned so that they operate as they should. The seller should also be very experienced with vehicles and vehicle used parts, so they should be able to tell you about the proper handling and installation of certain parts.
PROTECT THE ENVIRONMENT
There remains continued growing concern about the volume of materials entering landfills. While a significant volume of used parts are being recycled, unfortunately quite a few still manage to find their way into landfills, taking up space and years to decompose.
By purchasing used parts from Nixon Car Spares, you are not only saving landfill space, but you are also engaging in both recycling and a reduction of energy consumption by new car part manufacturers.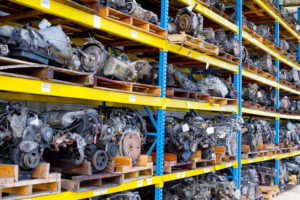 DIFFICULT TO FIND PARTS
There's truth in the saying "they don't make things like they used to" and in certain cases some car parts are not being made anymore. It is even possible for manufacturers to change a car model in the middle of any given year. When you can't locate a new part that matches the old one, Nixon Car Parts could be the ideal place to look.
As new cars are being introduced every day, Unfortunately, old car parts are constantly being discontinued. Even if a new part is a sufficient substitute, the discontinued part that you really need can be hard to track down. If you are having trouble finding the right part for an older vehicle, Nixon Car Spares inventory is a viable resource.
CONVENIENCE
When you need to acquire vehicle parts, you can save yourself time by conveniently shopping online at Nixon Car Spares. We offer a huge selection of used car spares from all the biggest makes and models, with 2,000 vehicles onsite. All you need is some basic information about your vehicle, such as the chassis number, manufacturer, model, and/or part type. Once we have located the part you need, it could be delivered free within 24 hours.